One of the most common questions asked when visiting Nashville is - Where to stay in Nashville? 
You see, Nashville comes with several options and it might get confusing to pick the best of the lot.
WHERE TO STAY IN NASHVILLE?
So, to make things easier for you we pick some of the best regions of Nashville and then listed the best hotels or vacation rentals in those areas. 
To add spice to the mix, we have included some additional info about the things to do in Nashville in those specific areas! 
Downtown Nashville 
Tourists flock to Downtown Nashville for the experience that makes one feel like Vegas is right next door! Whether it's the neon lights or the live music or the partying that continues into early morning, 
There are over a 100 bars in the area and local food joints that make the visit much much better! So, you can always have a good time when staying at Downtown Nashville. 
Downtown Nashville hotels are located in such areas that you will be able to walk to almost every destination within. However, Uber services are available plenty so transportation is just as easy accommodation! 
While you're at Downtown you must try to visit The Ryman Auditorium and the Country Music Hall of Fame Museum. 
On the other hand, Downtown Nashville has a number of attractions and activities to offer. There are art galleries along the 5th Avenue, The Johnny Cash Museum, Riverfront Park, and many others. 
Here Are Some Of The Best Downtown Nashville Hotels 
While there are several hotels that you will find at Downtown Nashville, here are some of the best hotels that you can stay at. 
JW Marriot 
Bobby Hotel 
Dream Nashville 
Westin Nashville 
Renaissance Hotel 
Sheraton Nashville 
Hilton Garden Inn 
The Gulch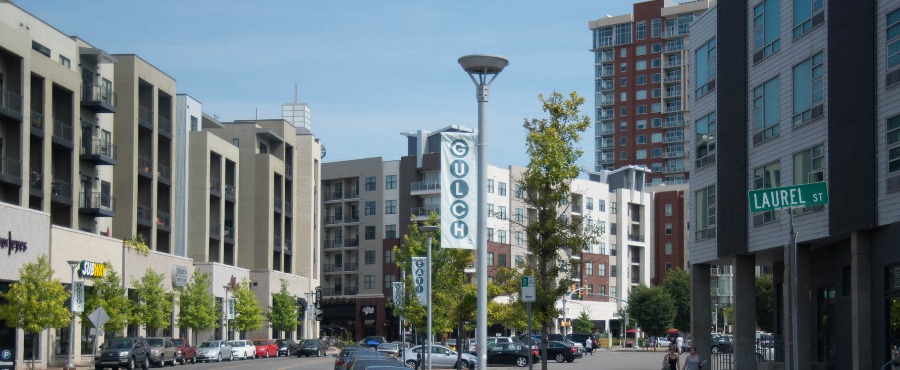 One of the absolutely favorite neighborhoods within Nashville is The Gulch. However, compared to Downtown Nashville it's much more upscale and trendy. On the other hand, you can avoid a significant amount of tourist activities and enjoy the local feel. 
It's considerably peaceful at The Gulch when you compare it to Downtown. It mostly suits the individuals who are looking for a quiet yet happening vacation. 
Now, the best part of staying around The Gulch is that it's walking distance from Downtown Nashville and South Broadway. 
Next, around The Gulch there are over 50 restaurants that range from juicy burger joints to classy steakhouses. One of the famous spots for breakfast smoothies is the Turnip Truck collection. 
Additionally, The Gulch is a great place for shopping. You will find high street stores such as Urban Outfitters and Loft. On the other hand, you will find local brands there as well. 
It's actually one of the best places to find the restaurants and bars that serve some of the most delicious dishes in Nashville. Some of the popular options for restaurants are Burger Republic, Hops & Crafts, Barista Parlor, and Otaku Ramen. 
Here Are The Best Hotels At The Gulch 
These are the best accommodations that you can find at The Gulch. 
The 404 Boutique Hotel 
Best Western Plus 
Thompson Nashville 
Fairfield Inn & Suites 
Midtown 
This is where to go if you want to eat the best dishes and drink the best cocktails. It's an absolutely different experience if you compare it to Downtown Nashville or The Gulch. 
Midtown is. Combination of local favorites, upscale dining, and good bars. So, if you're idea of a fun day out is to go shopping, then you should avoid midtown. However, if you absolutely enjoy trying dishes, then this is where you should be at. 
One of the places which receives the most attention is the Patterson House. It's a nice bar with an unique theme. 
Most of the time Midtown is surrounded by young professionals and college students. This is because Midtown is one of those places at Nashville which is great for pub and bar hopping. 
If you really want to see how a local Nashvillian spends their day, then you should definitely aim to live at Midtown Nashville. 
Some of the best bars at Midtown are Red Door, The Catbird Seat, Tavern, Patterson House, and Henley.  
You May Also Like To Know The Best Things To Do In London
Here Are The Best Hotels At Midtown 
These are the hotels you should aim to stay at if you're looking to spend your days at Midtown. 
Home2 Suites 
Embassy Suites Hotel
Kimpton Aertson Hotel
West End 
This part of Nashville is where the weekend events take place. So, if you're visiting to vibe during the weekends, this is where you should head towards.
Moreover, this section of Nashville comes with the Centennial Park which is actually the largest urban park there. On top of that, the park features the Parthenon which is a rather popular spot for tourists. 
West End Nashville has more restaurants than any of the other Nashville neighborhoods. There are ample shopping options as well. 
You can walk it to midtown from West End but will have to take Uber or Lyft to go to other destinations. 
Here Are The Best Hotels At West End 
This is our list of best hotels at West End. Now. The best part of hotels at Nashville is the price. Since it's sort of located away from the tourism spots, the prices of the hotels are quite low compared to the hotels of the other neighborhoods. 
Graduate Nashville 
The Hayes Street Hotel 
Hutton Hotel 
Residence Inn. 
12 South 
If you're looking to stay in popular neighborhoods then 12 South could be one of your choices. In fact, even if you don't end up staying there, it's strongly advised that you check out the place. 
There are dining establishments to burger joints. Ok the other hand, you'll come across local shops that are run by young professionals and families. Moreover, it's quite a famous spot for college students as well. 
Here Are The Best Vacation Rentals At 12 South 
12 South Loft 
12 South Retreat 
Modern 12 South Home 
Hillsboro Village 
This is another spot in Nashville wherein young adults, families, and college students are seen plenty. However, you will not come across any hotels in this region. 
Therefore, if you're planning to stay in this area then your choices are condos, apartments, or houses. 
You'll find shopping options, local coffee shops with brilliant brews, and over 25 bars. 
Here Are The Best Vacation Rentals At Hillsboro Village 
Hip Hillsboro Village Bungalow 

One Bedroom Condo
East Nashville 
You definitely heard of East Nashville if you're traveling to Nashville. It's home to many families and musicians. Therefore, if you want a proper feel of how the locals live in Nashville, then this is your place to be at. 
There are over 100 local restaurants and over 50 local shops. Furthermore, you can enjoy live music while eating some of the tastiest dishes of Nashville. 
Here Are The Best Vacation Rentals At East Nashville 
Blue Bird Studio Loft 
East Side Condo
Contemporary Retreat 
Victorian House 
So, there if you are visiting Nashville and looking for where to stay in Nashville, the above options are some of the best you will come across!