Are you planning a trip to the island and wondering about the tings to do in Aruba? And you should as well. Visiting an island is as exciting as it can get. On top of that, if you are traveling with family, then you will definitely want to know about all available things to do before going. 
THINGS TO DO IN ARUBA
Over here, we bring to you 12 of the best things that you can do on the island upon your visit. Not all of them are kid-friendly so you will need to pick the ones that best suit your vacation. 
Visit Eagle Beach 
One of the best things to enjoy when in Aruba is taking a day and relaxing on the sandy beaches of Aruba. Whenever you visit, especially when the weather is pleasant, you will find tourists flocking here along with locals. 
This beach is a stretch of sand which is known as the best around. The waters are calm, the shore is beautiful, and the overall view is stunning. 
If you do visit, you can take the opportunity to go snorkeling along with other activities like kayaking. Otherwise, you can relish the cuisine and cocktails that Aruba comes with. 
Enjoy The Local Goods
A great recommendation for things to do in Aruba is shopping the local goods and making sure you actually go for that haul! We kid you not when we say these make some of the best souvenirs. 
You will find almost everything - from cheese to chocolate, from spices to jams, from retail to crafts! Now, you might feel like going on a shopping spree and yes you should. 
However, do make sure that you know which are the items that need to be declared at customs when you make your trip back home. 
A Dip In The Natural Pool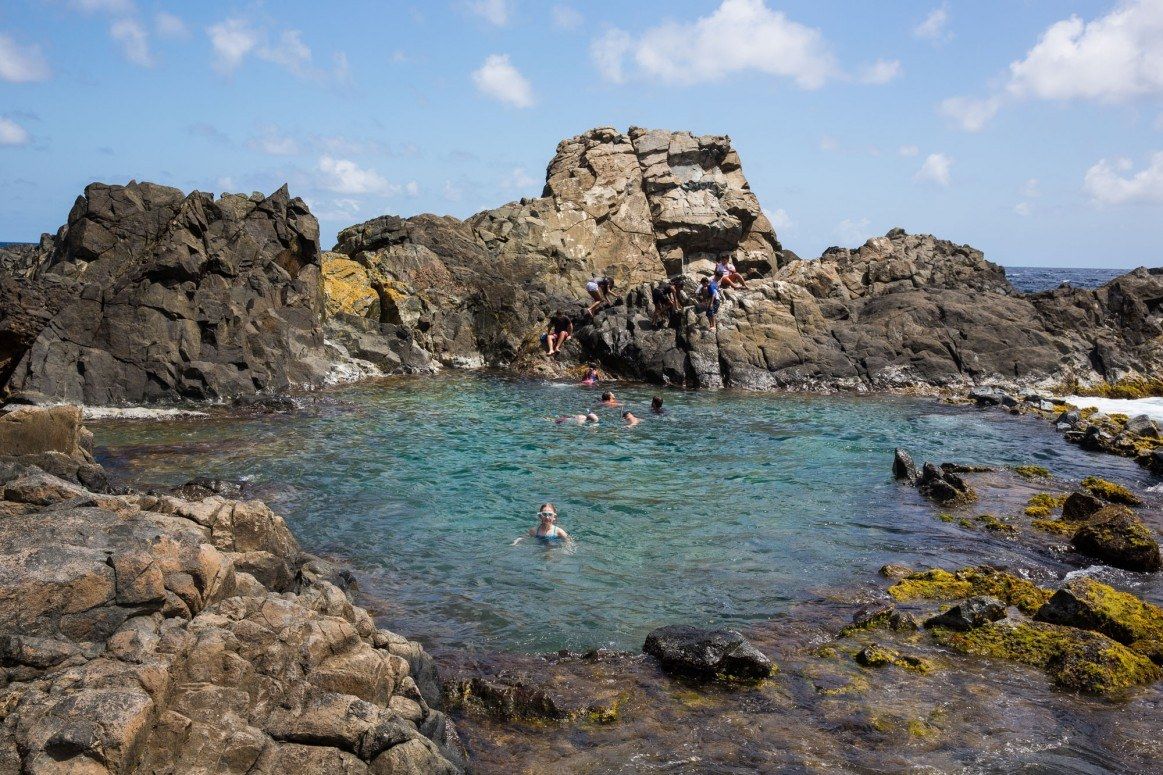 When you make your way towards the rugged reaches of Cochin, along the west coast, you will come across the Natural Pool. This is a volcanic rocks formation that makes its way to the Caribbean Sea. 
The main reason why it is famous is because of its geyser-type eruptions of salty water along with the sea spray. These keep happening throughout the day. 
You Can Go Sailing 
Now, yes we know this does not appeal to everyone, but imagine going sailing and getting to see the beautiful waters at their best. It is quite calming and can fill you with a sense of peace. You should go for this if the primary reason for the vacation is to return stress-free. 
There are tours that let you indulge in off-boat swimming and provides lunch as well. So, this is a good way to get your adrenaline pumping while making sure you have enough time to relax under the sun, on the boat! 
You May Also Like To Know About The Things To See In Reykjavík
Take A Trip To Palm Beach 
If you have had your fun at Eagle beach, then moving forward from it comes the Palm Beach. This is actually a great one with two miles of soft sand that feels like walking on cushion!
Palm beach is said to be one of the prettiest beaches around the world. So, if you are looking for things to do in Aruba with kids then you should take them to Palm Beach. They will have the time of their lives running around the soft sand! 
Finally, the Palm Beach is a great place for water activities as well. The blue waters make it perfect for snorkeling. It's just a great way to add the energy boost to your day!
Get To Know Aruban History
Even though it's tiny, there's a lot of history that this place holds. Hence, when you are visiting, you will find it interesting to learn the history! It's actually quite fascinating. 
There are cave paintings that date back at least to a 1000 years ago and almost 4000 year old pre-ceramic artifacts. 
Not everyone visits the museums when they visit a destination for a holiday but we strongly recommend it. While you enjoy the modern culture and have a great vacation, knowing the history of a place connects you to it on a separate spectrum. 
Get Lucky At Stellaris Casino 
Aruba resorts are great and one that is quite popular in terms of it Casino rooms is the Marriot Resort. You will find this towards the Palm Beach north end. It features gaming tables, slot machines, and a betting facilities. 
This is the largest casino of Aruba and due to this, you will find that it gives of the Las Vegas vibe. There are events such as parties, stand-up comedy shows, and other bar evenings. 
Now, if you do wish to bet then you should, however, be careful to not lose all your money. Also, we advise you play Poker if you know the game properly. Most who play here are good with cards and know their way around the game. 
Relish The Cuisine
When you are in Aruba, you will want to relish in their flavorsome dishes. The aroma itself will draw you to their restaurants and you will be indulging in everything possible! 
However, the cuisine is Dutch-Caribbean and is rather unique because it envelopes the different European flavors to perfection. Furthermore, the local coffee and beer and actually quite popular for quick bites. 
Some restaurants serve the best dishes made from the local fishes such as rock lobster, mahi mahi, and red snapper. 
Fancy A Romantic Dinner 
There is a gem which stands on the sea. So, when you have dinner their with your loved one, the view is just as amazing as it can get. We guarantee you will love every second of it. 
This is actually considered to be one of the most romantic spots on the island. Therefore, this should be one of the things to do in Aruba when you go to the island with your partner. 
Take Your Babies To Baby Beach 
The reason why it is called Baby Beach is because the extreme calmness of the waters makes it a best spot for toddlers to safely have fun. As a result, when you visit, you will find several families playing with their children and the giggling sounds fill up the air! 
The water is generally at a waist level but towards the shore it is shallow and very very calm. You have absolutely no idea how much your kids will enjoy on this beach. 
Furthermore, Baby Beach is clean and is one that ranks right around Eagle and Palm beach. You can rent chairs and umbrellas and even cars, in case you want to drive around the beach. 
Go Cave Exploring 
When you are at Aruba, one of greater recommendations that do not include beaches are the shady caves. This is not for everyone since it can get a bit spooky and you will encounter bats at times. 
These caves rarely get any light and that's why when you visit, you will get the feeling of a true explorer. On top of that, you will find cave paintings along with hand prints! 
Take A Tour Of Bushiribana And Balashi 
If you want to feel like a true explorer, then might we recommend the remains of Aruba's gold doom of thr 19th century? This is where you will still find the collapsing and crumbling of the dusty hills. 
Moreover, visitors here are truly amazed by the beauty of this place! Visiting these ruins should definitely be one the things to do in Aruba.